She is an Astronomer Launches Web Forum
1 October 2009
'She is an Astronomer', the International Year of Astronomy 2009 Cornerstone Project, has launched a web forum for female professional and amateur astronomers, students, and those interested in the gender equality problem in science.
The number of women reaching senior positions in astronomy is still disproportionately small, despite significant increases in numbers of female undergraduate and postgraduate students in recent years. The drop in numbers towards more senior levels suggests that scientific careers are heavily affected by social and cultural factors, and are not determined solely by ability.
"As part of the 'She is an Astronomer' project, we have been speaking to women all over the world and at all stages of their careers about their experiences working in astronomy. A recurrent theme that has emerged from these interviews is the importance of support and mentoring from other women working in the field. We hope that this forum will provide an opportunity, not only for women - and men - to discuss gender issues, share ideas and best practice, but to open up channels of communication for women working at all levels in astronomy and in all countries," said Dr Helen Walker, Chair of the International She is an Astronomer project. "The forum will be a virtual version of the lunch meeting at the IAU."
As well as message boards on issues relating to women in astronomy, the forum has general astronomy and science threads, fun and games and an astronomy feature of the day. The forum is moderated by Hanny van Arkel and Alice Sheppard, both amateur astronomers and citizen science enthusiasts, and Paula Brochado, who is completing a PhD on galaxy mergers.
"The forum is there for people to share their thoughts and exchange information. We're looking forward to some good discussions on the issues of gender equality in science: successes, problems, the future," said Sheppard.
"What better way of dealing with the issues than on a forum, where people from all over the world can easily discuss things," said van Arkel.
"I remember I never had a doubt about becoming an astronomer but, even though I love what I do, the truth is that to be an astronomer is far from easy in professional terms. I think this forum is a really exciting opportunity to connect women working in astronomy and share their experiences," said Brochado.
She is an Astronomer Forum: http://forum.sheisanastronomer.org/
Search IYA2009 Updates
---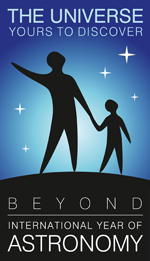 National Nodes: 148
Organisational Nodes: 40
Organisational Associates:33
National Websites: 111
Cornerstone Projects: 12
Special Task Groups: 11
Special Projects:16
Official Products:8
Media Partners:22