The World at Night Newsletter - 5 March 2009
5 March 2009
- The World at Night introduces Beautiful Universe 2009 as the official promoting product of TWAN-IYA2009 world-wide events. Published by Sky&Telescope, the special issue features TWAN and a collation of some of the most rewarding images from The World at Night archive. TWAN global exhibition and event organizers receive this product with special half-price discount from Sky&Telescope to distribute during the events. Please contact us for further information.
- The first TWAN exhibition in East Asia started in Seoul, Korea on March 1, 2009. The exhibition of 42 The World at Night artwork photographs is displayed in CheongGye Gallery and will continue until March 22, 2009. Read more.
- In January, during the opening events of International Year of Astronomy 2009, TWAN events joined the celebration in Paris and Germany. A virtual reality all-around image from TWAN exhibition in UNESCO-Paris is viewable here. The complete report of the events will appear on TWAN website soon.
- The new Events page explains how and where TWAN exhibition and educational events will take place. TWAN calls for the best world-wide venues to host the events during International Year of Astronomy 2009 and beyond. There are plans for hold TWAN events in about 30 countries. The progressing Event Calendar lists some of them.
- There are new stunning photos and time-lapse videos on TWAN website, featuring starry nights of the planet's landmarks from Australia, Asia and Middle East, to Europe and Americas:
Americas
USA
Southern Stars and Erupting Volcano (Hawaii) by Wally Pacholka
The Sound of Cosmos (Hawaii) by Wally Pacholka
Mauna Kea Milky Way Panorama (Hawaii) by Wally Pacholka
New Year at -40° (Alaska) by LeRoy Zimemrman
Crescent Moon over Sentinel Spire (Colorado, time-lapse video) by Thad V'Soske
Summer Nightfall on Grand Mesa (Colorado, time-lapse video) by Thad V'Soske
Canada
Alberta Trails by Yuichi Takasaka
Chile
Cactus Milky Way by Stephane Guisard
Telescopes in Action by Serge Brunier
Europe
Hungary
Big Dipper and Historic Ruins by Tamas Ladanyi
Wolf Moon by Tamas Ladanyi
Switzerland
Matterhorn Winter Night (time-lapse video) by Bernd Proschold
Italy
Friuli Night by Babak Tafreshi
Germany
The Blue Sky and Orange Castle by Babak Tafreshi
Sweden
Christmas Trees by P-M Heden
France
Circle 'round the Moon by Laurent Laveder
Moonbow by Laurent Laveder
Moon Meets Jupiter and Mercury by Gernot Meiser
Spain
Navarre Eclipse by Juan Carlos Casado
Asia and Middle East
Japan
Garden of Light by Shingo Takei
Moon and Swamp Weasels by Shingo Takei
Turkey
Orion to Canopus by Tunc Tezel
Four Seasons of Lake Venus by Tunc Tezel
Iran
Conjunction of Art by Oshin Zakarian
Eclipse in Morning Light by Babak Tafreshi
Moon and Venus above Isfahan by Oshin Zakarian
Black and White by Oshin Zakarian
Winter Dream by Babak Tafreshi
Australia
Meteor and Pinnacles by John Goldsmith
Heart of Solitary by Shingo Takei
Ocean Eclipse by Shingo Takei
Guest Gallery is a a well-received section on TWAN website to feature selected outstanding Earth and sky photos by non-TWAN creative photographers from around the globe. If you have such remarkable photos to share with TWAN Guest Gallery, please contact us.
- Astronomy Picture of the Day (APOD), a NASA's world-known website, has featured six new TWAN photos:
Mauna Kea Milky Way Panorama by Wally Pacholka
Circle 'round the Moon by Laurent Laveder
The Milky Way over Mauna Kea by Wally Pacholka
Annular Eclipse: The Ring of Fire by Dennis Mammana
Comet and Meteor by Babak Tafreshi
- TWAN is featuring six special galleries:
TWAN is a global program of Astronomers Without Borders (www.astrowb.org) and a Special Project of International Year of Astronomy 2009, an initiative by IAU and UNESCO. The World at Night is to produce and present a collection of stunning photographs of the world's most beautiful and historic sites against the nighttime backdrop of stars, planets and celestial events. The eternally peaceful sky looks the same above all symbols of different nations and regions, attesting to the truly unified nature of Earth as a planet rather than an amalgam of human-designated territories.
Building bridges through the sky
The World at Night
Search IYA2009 Updates
---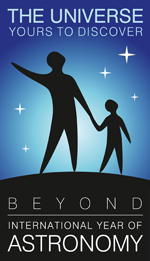 National Nodes: 148
Organisational Nodes: 40
Organisational Associates:33
National Websites: 111
Cornerstone Projects: 12
Special Task Groups: 11
Special Projects:16
Official Products:8
Media Partners:22