Financial newspaper in Italy celebrates IYA09
10 December 2009
Throughout the whole year 2009, the Italian financial newspaper Il Denaro has hosted a regular column about astronomy on their weekly scientific supplement Futura.
A group of enthusiastic young astronomers, either working in Italy and abroad, have written dozens of nuggets and every Thursday delivered a new piece of the sky to the readers. The stories span several different subjects, from space probes and objects in our Solar System to stars, galaxies and the Universe on its very largest scales.
Besides the description of astronomical objects, their beautiful images and the physics behind them, the astronomers have also focussed on explaining how cutting-edge instrumentation and experiments are planned and work, thus opening a discussion platform between the researchers and the world of industry.
The title of the column, "A riveder le stelle", meaning "To behold the stars once more", echoes a famous sentence from Dante's Divine Comedy and proposes a rediscovery of the skies and of the cosmos.
All the articles appeared in the column can be found on a dedicated blog: http://arivederlestelle2009.blogspot.com, as well as in the archive of the newspaper's website: http://www.denaro.it .
Search IYA2009 Updates
---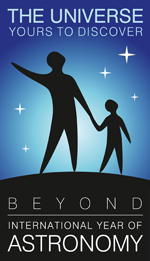 National Nodes: 148
Organisational Nodes: 40
Organisational Associates:33
National Websites: 111
Cornerstone Projects: 12
Special Task Groups: 11
Special Projects:16
Official Products:8
Media Partners:22