News round-up, 6 March 2009
6 March 2009
Another news round-up already? Fridays are definitely getting closer together. Fact.
The 100 Hours of Astronomy Cornerstone Project is nearing fever-pitch, with kick-off occurring in under a month. Their official blog is a great place to see what's going on, and get a feel for the initiative. To be up to speed with a single click, consider People's Weekly World.
SciLands Virtual Continent has been advertising perhaps the most unusual IYA2009 event reported in these updates so far. On Friday 6 March, participants in the Second Life virtual world will be able to see two lectures, streamed from Chicago's Adler Planetarium. The first is from the Cosmic Diary's Brother Guy Consolmagno, who will be talking about "the Galileo affair". Following him, Ohio State University Prof of Astronomy Scott Gaudi will be discussing exoplanets and life in the Universe. I'm a bit vague on the whole Second Life thing, so just follow the link for more details, ok?
More Adler Planetarium news! They're pulling out the stops this week as they're also showing two new astronomy movies and announcing an exhibition about 400 years of the telescope. Medill and Chicago Breaking News have more information, so get clicking.
Physics World have just released an IYA2009 special issue, available to download free of charge for a short period of time. It boasts features on Earth-like planets, giant telescopes, and returning to the Moon. They've also written a review of the Cosmic Diary on their website. The content has even been mentioned on other sites, such as Tech News Watch. Congratulations, Physics World!
Light pollution is a recurring theme during IYA2009. Artificial lighting drowning out the stars is becoming ever-more of a problem. The Canberra Times is helping to keep momentum up by reporting about the wasted light frustrating astronomers and the public alike in the Australian city of Sydney.
Staying Down Under, Impulse Gamer (news they insist is "not just about games", maybe they should change their name then) has posted the programme of events coming up at the Melbourne Planetarium. Topics range from backyard astronomy to travelling throughout the Universe. Apparently visitors will have the opportunity to a chat with the planetarium's astronomer, enjoy wine and cheese, and be immersed in a planetarium experience. So in case you missed that, BOOZE.
That's plenty to tide you over until next week.
Remember that these updates are almost exclusively English-language based. Check local sources and your favourite news aggregator sites as well (e.g.: http://news.google.com), to complement these overviews.

Lee Pullen
IYA2009 Staff Writer
Search IYA2009 Updates
---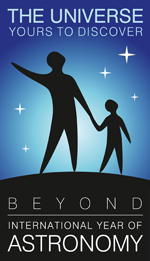 National Nodes: 148
Organisational Nodes: 40
Organisational Associates:33
National Websites: 111
Cornerstone Projects: 12
Special Task Groups: 11
Special Projects:16
Official Products:8
Media Partners:22